We went to the McWane Center again!! I LOVE going there. I have just as much as the boys do! But, I didn't realize that last Monday was a holiday until we were already in the car and the destination was known... Oops. Oh, well.
We ended up having a ton of fun! We actually spent most of our time on the third floor where the model trains have been set up. Way cool. Those parents muttering about skipping that floor? Yeah, you missed out. Just sayin'.
Andrew LOVED this one! He stayed in that spot for probably about a good five minutes. Then he just inced over a bit to see the next one come by. LOL
I have a confession to make: from the back of Andrew's head...I had no idea that was him when I was editing these pics until I got to the one on the right. LOL They really DO look like twins these days!
Andrew had a blast making Thomas and James run around the track...
...which could possibly give you a slight case of whiplash when trying to take a picture. LOL
This was Andrew and Alex's favorite. The train on the top moved along with one that runs on the inner track. The other two you see do not move, but the yellow one was Andrew's favorite. He said it looked like the ones in "Boomingham." Such a cutie.
As we made our way around the trains, Alex found a crane and he hung out there a bit while Andrew finished watching another train running nearby.
They he came over for a try on the crane.
This is where it got chaotic. The Clifford exhibit (which we all loved) just opened over the weekend and we were excited to go see it. Only, it was chaotic because of - ready? - the parents. Oh. My. Gosh. One of them nearly knocked over Alex. Wanna guess what I nearly did? Kidding. Sorta.
We stayed there for not even five minutes. But the buys did get to play with the giant doggie treats for Clifford. I love Alex's face! I got him mid-word: "Bone!"
While the trains and giant treats were fun, Alex LOVED looking at the fish.
Andrew told me to take a picture of the "Nemo tank" but not of Nemo. He likes Gill. No...I couldn't remember his name or what kind of fish he was either. But here he is!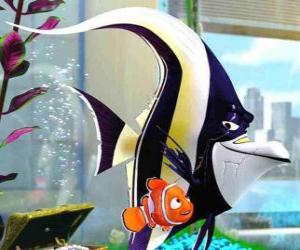 And, now that I look at this pic vs what I took a pic of...they aren't the same. Close enough!
Another great day with my little guys!