I'm so tired of finding all these amazing ideas and NOT doing any of them. The recipes I can get to because, well, we need to eat, right? But, the other fun stuff, you know. When am I really going to get that
in-ground trampoline
done or go on a wild and crazy shopping spree for
a great new wardrobe
?
So, to help with this, I've made a
"To Do List"
board to start knocking these
great ideas
off this list. And, YAY ME! I got one done today. And, it took about 5 minutes to get it together really. Have I mentioned my love for the drill?
I found this charging station idea on
TT&J
(love her!):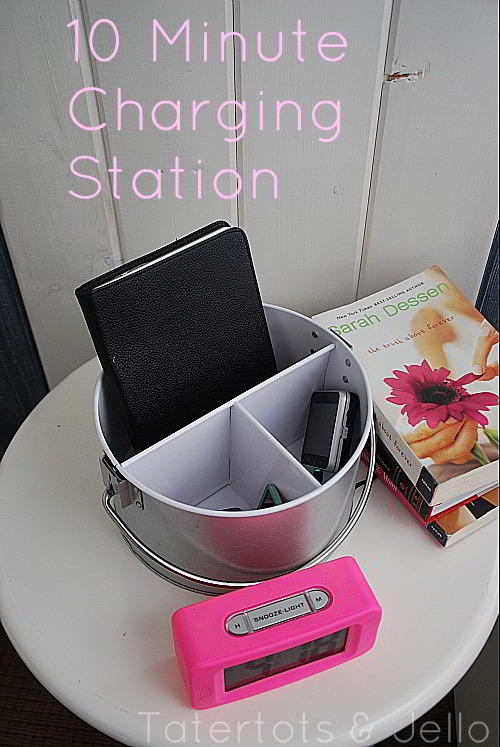 And while I was at Target grabbing my lost items from the grocery list... How did I forget some of these things?! I grabbed my utensil bucket!
Just under $10 :)
So off to the garage to grab the drill - mwuhaha! I love that thing. I feel rather invincible with it. Anyway, I drilled 2 holes for my kindle and phone cords. One is off in the back and one off to the side as far as I could without hitting the long separator piece.
After clearing off my counters and getting a tad bit more organized in there (What is with kitchens getting so messy constantly?!), I found our new charging station a home. Now there is a place for all these things. No more looking for chargers, no more smashing them with jars that fall from the top shelf. What? Oh, I didn't tell you that story, huh? Yeah, I killed Jason's phone...but Verizon is awesome and I went in and out of there in under 10 minutes with a new phone :) Stinking salsa jar on the top shelf...
Anyway, 1 fabulous project done! 7 more on the list for May :) By the way, if you love this idea, please make sure to link/pin the
ORIGINAL IDEA
- not mine. Also, as this is a "to do list" board, this pin is gone - crossed off, so to speak.
Now, what should I get done next???