So, I found a great Catholic blog the other week and have become an active follower quite quickly. Holly, over at
A Life-Size Catholic Blog
, has a post party going on today that emphasizes some good things that we have come across that should be shared.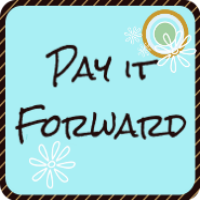 Well, two Sundays ago at Mass, they had these booklets out to pick up on your way out. It is called,
"The Word Among Us"
and it is basically a monthly publication that is filled with great articles on strengthening your Catholic faith and daily meditations. Since, picking this magazine up that morning, I have read the chosen Scriptures and have prayed every day. This is something that I have not done in a LONG time. I have even prayed the Rosary a few nights so far.
It had helped A LOT! And, honestly, (for those that don't personally know me), I have been under an unbelievable amount of stress since the week before Alex was born. So much, in fact, I am now taking medication to help me out. It's is so hard to be a mother, but I need to be the best I can be, right? Well, I am a definite believer in the power of prayer now. I really did not want to call the doc and ask for help. I am a first-born... You know...we think we know everything and we are crazy independent. Ha, not so much... Anyway, the point of that blurb just now was that there was an article about
how to hear the Holy Spirit
. Well, I prayed last week for help.... Suddenly, I found myself calling Rachel, and she really helped me to understand that it really is ok to get help and that I need to just do it already. Next thing I know, I am calling the doctor.
So, if you are looking for help to strengthen your Catholic faith or just want a good read, this magazine is great! I don't know if this is something they hand out every month at Mass, but I'm definitely going to get a subscription.