I know, you are wondering, "What mantle?" since we now have a new
living room
set up. It's all good, I have a shelf in the kitchen that is claiming to be a mantle. I actually did this back in January when we were doing all that reno in the living room, but this is all the Spring you see in the house for now. I have a bit more to take care of around here :) And, since I did change up the decor in the kitchen, I might as well show you that while you are visiting. So, grab some sweet tea and pull up a chair!
Like my Hobby Lobby shelf - ahem, mantle? Got it for $12 instead of $25 during a sale last summer.
The pear is from a set that my mom gave me as a housewarming gift when we moved here after our wedding. In the picture below, you can find the other two (yellow and white) hiding on the top of the cabinets.
Turn around and this is the view of the kitchen :)
And, walk down to the door and this is what you see looking back.
So there is my Spring Mantle, plus a bonus tour of the kitchen! Have you started decorating for Spring? Today is the 1st Day of Spring! For some inspiration, check out what a few others have been up to in their homes: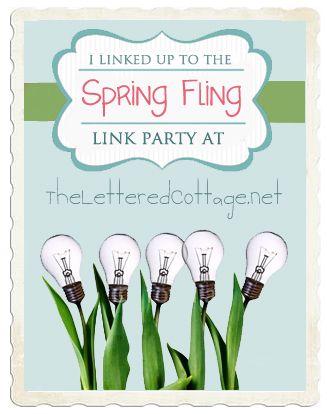 Also linking up with:
Thrifty Decor Chick