Hello February!
Can you believe it? February.
January was a little crazy, but we got through it! We may have only had a few projects going on at home, but they were quite fabulous. Our blog is growing, too! I've started writing a lot more and am beginning to look for some freelance jobs here and there. Also, if you are a regular follower (thank you!), have you notice the new ads? YAY! I've joined Google AdSense :) More exciting things coming up, but for now go grab a glass of sweet tea and have a seat! Here are the
TOP 10
posts our visitors were reading:
January was such a fun month - good weather, good books, and lots of good playtime

.

Here is what January was like in a few pictures: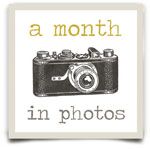 So, how was your January?