So, I've been backed up on posting these since the whole fiasco with the dresser. We got it at the end of December, but it was cracked... The next one came last week and it is perfect! Much better. I'm going to hold off in posting the pics of the boys' room until it is done. It is just insanity right now.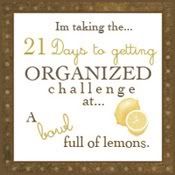 The Pantry and the freezer (Days 7 & 11):
I apparently need to go grocery shopping...
But not for dry good so much. :D
Anyhoo! Now off to clean the boys' closet and get the office situated. UGH!
Hope you are keeping up with the challenges.