Or in my case, the cabinet above the microwave that holds everything known to man.
I am participating in a challenge over at
A Bowl Full of Lemons
(cute name!):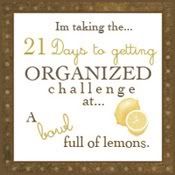 Today's challenge was to organize the insanity that lurks in your junk space... All of my drawers are being taken over by all of my fun cooking things, so we have an evil cabinet of death. I wasn't going to add this to my resolutions list, but then I went to put something in there and 500 things fell out. So, it had to be done. Stupid cabinet. We are supposed to do a before and after shot, but I couldn't take the embarrassment... Here is the after though:
I moved those shelves up to make some more space. I love that I can move the shelves around. :) I don't know why I never did that before though. Hmm...
On the left door, I have our calendar from our church (helps in being reminded of some of
my resolutions
) and my nifty cleaning schedule thanks to
Clean Mama
. On the right door, I have our menu plan for the week. I used to do the whole month, but since we are changing up our budget a bit...I am trying something new.
Then there are my cookbooks...I had way too many. Some of which will be given to friends who want them. If you know the recipes in them, you definitely don't need it anymore, right? I also have my favorite drawer organizer (which needs labels in my opinion) with first aid things, everyday tools, 3M hooks, pens, etc. Oh, and that green tub is filled with my mail items and my coupon file.
There you have it. The junk cabinet is taken care of and, hopefully, will stay this way! If organizing/cleaning is on your list of resolutions, you should definitely
join in this challenge
. I love a challenge!!