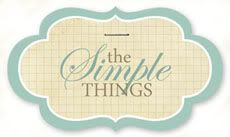 It is time again to share the simple thing that made us smile this week! If you want to join in, just go over to Simple as That. For those that don't have a blog, just post a pic on Facebook or email one out to friends and family.
Snow. The snow made me smile this week (well maybe just the first day or two). It made me smile because Andy loved it! He loved that his feet made tracks in the snow. He loved that his feet got stuck in the snow. He loved that he could be outside with a reason to be cold (ok, maybe that's my reason). He loved it! To see more pictures of our snowy adventures, click
here
and
here
.
What made you smile this week?