After the 21 Day Challenge with
A Bowl Full of Lemons
, a new challenge has been born: The Weekly Challenge :) And after the amazing transformation of the organization in my house, I am SO in. How about you? You know you want your home to continue looking great!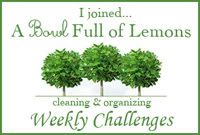 Post from the fabulous Toni:
You all rocked the 21 day challenge & we had almost 300 blogs participating! I pray that the new weekly challenge will surpass the last one. We shall see! I have been anxiously awaiting to reveal my new blog challenge to you. It will start on Sunday, January 30th. I will post an assignment every Sunday night and we will have the entire week to complete it.
A few examples of assignments will be:
Organizing your craft room
Creating a recipe binder
Organizing your bookshelves
Cleaning out (and organizing) the garage
Making a Home Management Binder
Menu planning
and LOTS more!